The CBS Roscommon and Edmund Rice Centre extended a warm welcome to our new First Year students who started secondary school last week.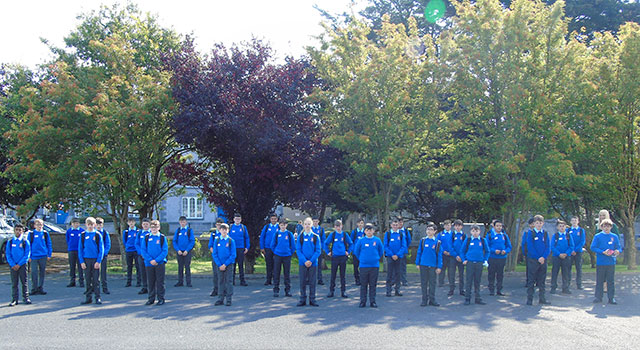 The students – divided into groups – were greeted in the school yard last week by the Principal and Deputy Principal, teachers and their Year Head, before an Assembly was held in the Ciaran Byrne Hall to formally welcome them to the school, and tell them a little bit more about their induction programme over the coming days.    
The three class groups commenced the day with a workshop on hand hygiene – reminding them of the importance of thoroughly sanitising hands on a regular basis. They also received a tour of the school, demonstrating the new one-way system and highlighting the hand sanitising units outside each classroom and along the corridors. hey heard more about the school's strict policy on inclusion and as well as everyone's right to feel safe and respected.    
Day Two of their induction programme also included their assessment tests which took place in the school's computer rooms. This was followed by a PE session which allowed them to get active and enjoy the sunshine. They took part in an information session on Office 365 to learn more about how they will be working with the school's virtual network. This was followed by a workshop on Wellbeing where they learned more about the importance of minding their own mental wellbeing.  
Many thanks to all staff members who worked to ensure that the students enjoyed a great first week. The CBS is committed to ensuring that First Years will still enjoy a great year filled with exploration, fun, friendship and both personal and educational development. We also wish to thank parents and students for full compliance with guidelines and look forward to working with you throughout the year.